CHARACTERISTICS

The Fly is the definitive all-round paddleboard range; having the versatility to smoothly glide across flat water, effortlessly ride small to medium sized waves, and even the option to add a sail and windsurf in light winds.





Designed to cater for all experience levels – whether you are a newbie or more experienced paddler – these classic SUP shapes will provide you with the maximum enjoyment from your time on the water, no matter where you paddle.





Built in light and strong Vectornet technology, the Fly is available in three sizes, with the 11'2" also available as a model with optional Center Fin, for better stability and tracking when using for Windsurfing.
FLY



SURFING ROCKER

True surfing rocker line with a flat into full V bottom for engaging carving sensations off the tail




FLAT DECK

Flat deck with volume pulled out to the rails for stability

LOW NOSE ENTRY

Low nose entry for effortless wave catching and glide




RAILS

Sharp tail edges with softer rails up the nose for smooth power riding and drive through the turns




DECK NET

Deck net to secure luggage




MASTFOOT INSERT

Mastfoot insert for windsurfing option
BOARD
FLY 9'6''
FLY 10'6'
FLY 11'2''
FLY 11'2'' CENTER FIN
VOLUME
151 L
177 L
236 L
236 L
WIDTH
31'' / 78.7 CM
31" / 78.7 CM
34" / 86.4 CM
34" / 86.4 CM
LENGTH
9'6'' / 289.6 CM
10'6" / 320 CM
11'2" / 340.4
11'2" / 340.4
WEIGHT
10.37 KG
11.63 KG
13.3 KG
13.3 KG
FITTINGS
US 10'' BOX, MULTI-BOX
SIDE FINS / 1X 8", 2X
4 3/4"
US 10'' BOX, MULTI-BOX
SIDE FINS / 1X 8", 2X
4 3/4"
US BOX / 1X 8"
US BOX, POWER BOX / 1X
8", 1X CENTER FIN
REC. USER WEIGHT
45-80 KG
65-88 KG
70-90 KG
80-100 KG
MASTFOOT INSERT
YES
YES
YES
YES
ARTICLE NUMBER
13200-1109
13200-1109
13200-1109
13200-1108
VCT: VECTOR NET TECHNOLOGY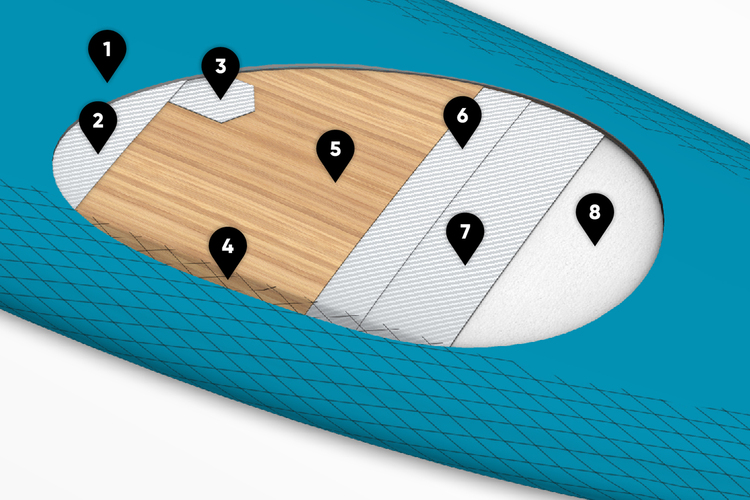 1 Light finish and weight saving graphics
2 Ultra light fibre layer
3 Glass core stringer
4 Vector net rail frame
5 Extra strong Bamboo reinforcement (stance area)
6 Solid glass layer
7 Ultra light fibre layer
8 Super light EPS core

Our new Vector Net Technology – with it's stringer and bamboo wood reinforcements in key areas – ensures a great strength to weight ratio and comes with exceptional frame stability for a direct and responsive feel.
FINS OVERVIEW
FINS FLY 9'6" / 10'6"

1x Fly 8" RTM, 2x 4 3/4 " RTM

FIN FLY 11'2"

1x Fly 8"

FIN FLY 11'2" CENTER FIN

US Box, Power Box / 1x 8", 1x Centerfin
No customer reviews for the moment.